Vikingen infinity Resort Transfer service offers a luxurious and enjoyable journey to your destination in a timely manner. Our VIP vehicles ensure a comfortable trip and are a preferred choice for those looking for a comfortable journey. Our service in Antalya also includes complimentary drinks and in-car amenities for added comfort during your trip
Additionally, our drivers are experienced and knowledgeable, ensuring that you reach your destination safely and efficiently. We understand the importance of punctuality and will make every effort to ensure that you arrive on time. With our transfer service, you can sit back, relax and enjoy the ride without any worries. We are committed to providing a high-quality transfer service to make your journey as comfortable as possible.
Antalya Airport to Vikingen infinity Resort Transfer
You can make an online reservation within minutes by clicking on the vehicle image that suits you from our vehicle fleet below. You can book a refund during online booking. In this way, you will get a more affordable transfer with the early booking opportunity.
Information to be Requested from You for Reservation
In order for us to perform the Airport Vikingen infinity Resort Transfer service perfectly, you must enter the information in the reservation form. The arrival date and time, the number of people who will receive the transfer service, the name-surname-name information of the passengers are requested for your safety. You must specify the flight number (EZY1822, PC557, XQ132, SU2143, TK2416)
Our transfer service can be made to any address in Antalya. Thanks to this transfer service, you can between the hotel and the airport. All you have to do now when you travel to Antalya is to enjoy the journey. So you can watch the scenery and make your planned trip more comfortable.
Vikingen infinity Resort Transfer Reservation
You can make a reservation via the Whatsapp live chat line on our site or by phone. We also have online reservation facility! You can book our Vikingen infinity Resort transfer service within seconds. You can choose the days and times you want, or you can choose your vehicle. After the reservation, the reservation content will be sent to you via our Whatsapp line or e-mail for confirmation. You will be asked to confirm the reservation. There is also detailed information about our reservation service on our website.
Distance to Vikingen infinity Resort Transfer and Antalya Airport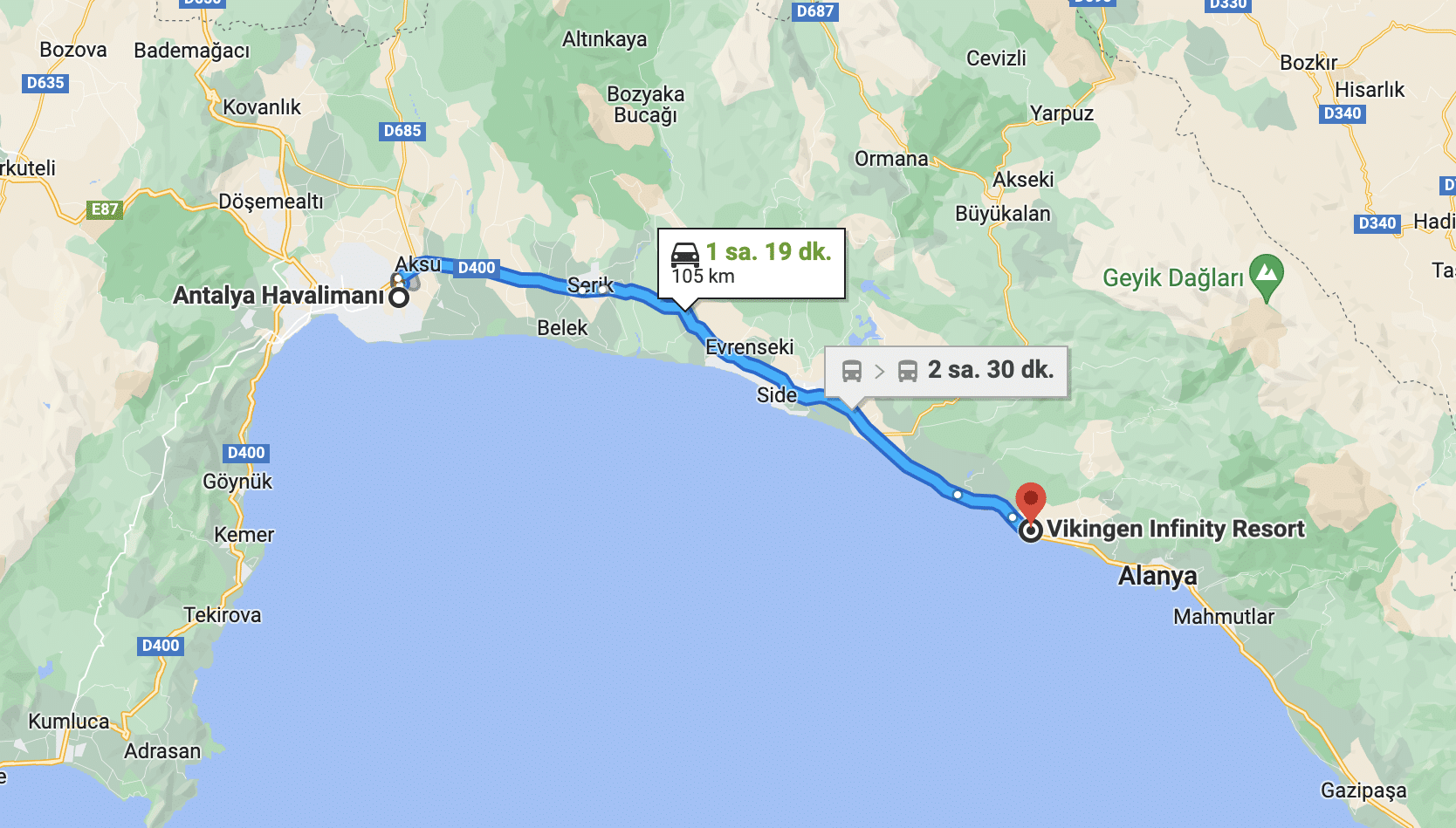 When you take our Vikingen infinity Resort Transfer service, our comfortable, state-of-the-art luxury vehicles will transport you from the airport to the hotel or from the hotel to the airport using the best route, safely. We are a company that does our job with love and care. We work for the best!
The distance between Antalya Airport and Vikingen infinity Resort is 105 km. On average, transportation takes 76 minutes with our VIP vehicles.
Vikingen infinity Resort Contact Information
Website: vikingenhotels.com
Address: Fuğla Mahallesi, Kartepe Sokak, Akdeniz Bulvarı No: X, 07400 Alanya/Antalya
You can find out what you are wondering by examining the frequently asked questions below. You can send your questions to us on our Whatsapp line or in the comments section.
FAQ
Do your vehicles have passenger air conditioning?
We attach great importance to the comfort of our customers. All of our vehicles have passenger air conditioning
Do you offer a welcome package?
Yes, we prepare welcome packages upon your request
Can I make the payment for the vehicle?
Yes, one of the most prominent features of our company is the option to pay for the vehicle. You can make your payments in the vehicle.
Do you greet us when I land at the airport?
Yes, our greeter with your name will meet you at the airport check-ins and assist you to the vehicle.
Can we always reach you?
You can reach us 24/7 via live support, whatsapp, e-mail or your phone number. We are working to provide the best and uninterrupted service.
How do you set the prices?
The system automatically determines our prices according to the kilometers between points. Our company aims to act objectively.
What are the Cancellation Conditions?
You can cancel your reservation up to 12 hours before. Refunds are made within 2 business days.